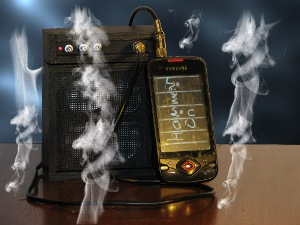 Githara Studios is where a passion for guitar resonates with a passion for technology. HammerOn Guitar is Githara's first product and intended for the real Guitar Heros. The vision for HammerOn Guitar is to create a virtual jamming experience as close to the real thing as possible. If you want to play chords and sing kumbaya -- HammerOn Guitar may not be for you. But if you want to play screaming lead to the limits of the android platform then install now.

The HammerOn Guitar is exactly that -- no picking, just hammer on and pull off. This means a left-hand only action and faster playing. You can select from a number of backing tracks and solo away. The HammerOn Guitar is based on fret 5 to fret 9. HammerOn Guitar features:
HammerOn and Pull-Offs
Bends
Whammy Bar
Configurable Effect Rack
Fast Play
Backing Tracks

See a review on an Italian guitar web site.