Lollipop Lollipop lolli-lollipop
October 29, 2014
We had some bugs to fix in preparation for Lollipop (Android 5.0). Now we are right to go. In addition, usbEffects got a new Vibrato pedal and some little tweaks to Delay and Tremolo effects. We also added the ability to send WAV files from saved loops in the Loop Hub effect pedal. Who knows what next month might bring?
Delay Effects gets the new UI!
September 24, 2014
Delay effects has caught up and got a new UI, plus all the effects from usbEffects (except the heavy metal one). usbEffects also got some fixes and latency improvements.
Tidying up some loose ends in usbEffects.
July 31, 2014
This month we added basic support for landscape orientation in usbEffects and also support for multi-view on the Note3, Note 10 and possibly others. A bug was fixed which was introducing some buzz/distortion for clean signals. A slight change to the usbEffects icon was made to make it more obvious that this app is for USB connectors only.
Pedal to Metal in Hazy days of Winter.
June 28, 2014
Winter is really here in Canberra -- it is very cold and raining! We have pumped up the heaters, and the volume and produced a new "Metal of Awe" pedal. We also spent many hours optimising the performance of the UI so that the usbEffects app works better on devices like Sony TX, Sony Z1 compact and some others. This month also marked the release of some new songs by Kevin Windross. You can check them out here.
Some new pedals for usbEffects.
May 22, 2014
This months update to usbEffects included a Compressor, a Phasor and a new Looper pedal called "Loop Hub".
We hope you like them.
usbEffects gets a new Face.
April 16, 2014
We just released the new UI for usbEffects.
It has taken at least 9 months since a customer suggested using Amp models -- we didn't manage to go too far down that path yet, but in the process usbEffects looks a lot nicer and is much more usable in terms of turning a dial and hearing the change. This release also includes a fix for a problem with noise in the Reverb effect, and noise in the Metronome. There are now 15 channels plus a tuner, so once you get it set up, it is easy to switch between different sounds and keep playing. Also, even though there are only 4 effects per channel, the amp-head itself has Distortion, tone and Reverb built in so you really can have 6 or 7 effects depending on how you look at it.
Testing testing 1-2-3.
March 29, 2014
We are currently testing a new UI for usbEffects.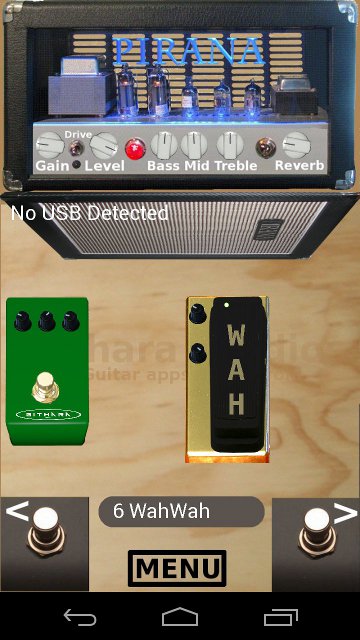 At this point we hope to release this some time in April if all goes to plan. It will probably later be ported to DelayEffectsPlus. One of the most exciting things about the new UI (apart from the look) is the ability to change the effect knobs as you play the guitar (UI zooms in on first touch of control section of pedal). In addition, there is a completely functional tone-stack as part of the amp-panel. All feedback is welcome.
usbEffects gets Featured.
January 31, 2014
Happy New Year and Happy Chinese New Year! After Adding support for some more USB devices to usbEffects, it has been featured in GuitarSite.com website. This year we hope to achieve what we failed to do last year -- add a better UI and something approaching amp models to usbEffects and DelayEffectsPlus.